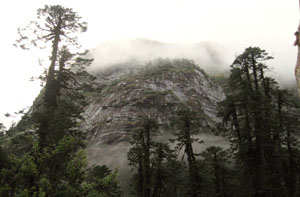 The Tholung-Keusong trek is an exhausting and strenuous trek. The ultimate destination is the Keushong valley with the Keushong Lake. It is also called Keushong Tso Lake or Kishong Lake. It lies at an altitude of of about 14,800 ft above the sea level. The crystal clear lake is surrounded by forests of rhododendron, pine trees and medicinal herbs. The lake is the major source of the Ringpi Chu River, which later joins the Rungyung Chu. It offers great views of the Kanchenjunga peaks. The region have a very rich variety of flora and fauna.
Lakes have always been sacred to the Lepchas as they believe that some of the clans originated from the lakes. Keushong lake is believed to be the route to heaven.
On the way, You will come across herds of Yak (long haired Himalayan bovine). If you are lucky, you may catch a glimpse of blue sheep which is one of the endangered species, native to this area. Plenty of high altitude birds can be seen on this trek. There are also huge varieties of different plants in the valley. One has to go there to really appreciate the beauty of the place. Various flowers cover the valley, adding rich colors and sweet fragrances to the valley.
See the Gallery below to view some beautiful pictures of Keushong.