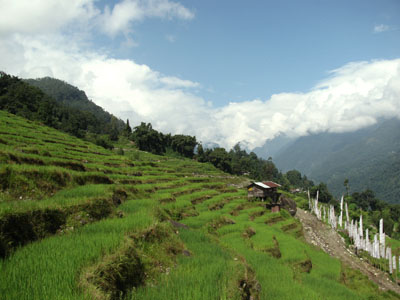 Dzongu is a triangular region in North Sikkim, bounded by Teesta River in the south-east, Tholung Chu River in the north-east and by rising mountains in the west. These mountains lead up to the mighty Kangchenjunga.
Dzongu is an official reserve for the Lepcha community. Kilometers of stunning beauty of the wilderness greet you when you enter Dzongu. Numerous waterfalls cascade down every hill, visible here and there amongst the lush green trees. Mighty rivers flow in steep and narrow valleys nurturing all the life here and ultimately adding to the Teesta. Snowy mountain ranges form the backdrop and bird calls add to the pretty painting that the landscape here is. Every thing here exudes a deep sense of solitude and calm.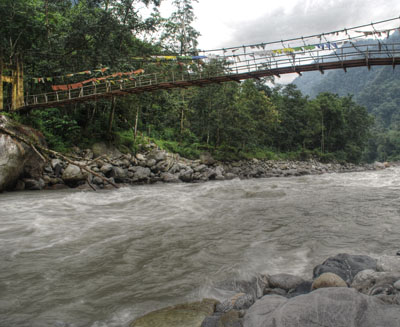 The Lepcha villages only add to this. They seem to be a part of all this. The colourful Buddhist flags float in the mountain breeze, carrying the prayers of the Lepchas to their Gods. The contoured paddy fields add more colours to the picture perfect scenery. The beauty of Dzongu is complimented by the weight and depth of its heritage carried by the Lepcha people. A visit to Dzongu is incomplete without the Lepcha people to guide you with their enchanting narratives and their uncanny sense of the wilderness.
In this terrain, the old Lepcha carrying the wood and the sure-footed Lepcha children may make you feel a bit out of place, but their hospitality will make you feel more at home than ever. A Home Stay at a traditional Lepcha home is a unique experience and a gateway to understand and explore the beauty of Dzongu.