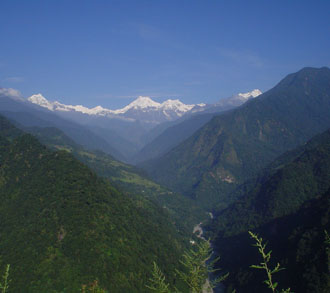 Dzongu lies in Sikkim, in North-East India. It consists of beautiful mountains covered with forests, interspersed with villages, and a river that is the very life line of the people living here. It is not your ideal hill station however. Far from it. It is a rather large area of Sikkim, reserved for the original inhabitants of Sikkim, the Lepcha people. The Lepchas live here as a part of the nature all around them. And so they have lived from time immemorial.
Nestled amongst the trees is Mayal Lyang, a beautiful house for a homestay. Mayal Lyang means the 'Hidden Land' or 'Land blessed by God' in the Lepcha language. A small walk around the place will explain why we chose to call it so. Untouched by the tourist hustle bustle, this place has hidden treasures behind every other tree. Life here moves at its own pace. You tend to forget what it was back at your place.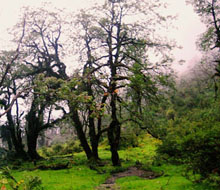 A short walk takes you to the Rongyung Chu river. Sit by the river angling or doing nothing at all! Relax and enjoy the pure mountain air, eat the food we grow here, and understand our way of life. Understand how the nature all around our home is a part of us. Trek these almost untouched mountains, meditate in the monasteries or simply enjoy the views of the great Mt. Konchendzonga.
Find your peace at Dzongu.